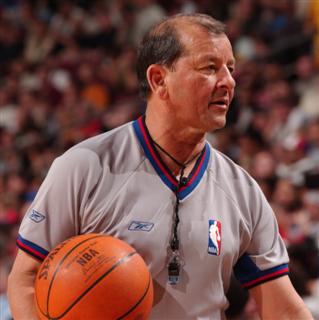 Tommy Nuñez likes to tell audiences of poor and troubled young people that he was once just like them: a tough street kid raised in the projects, the product of a broken home, a hell-raising boy kicked out of high school, a guy just a half step away from prison. Then he says he's a referee – now retired after 30 years – with the National Basketball Association. This is when he calls attention to the fact that he is the first and only Hispanic official in any major league sport in the United States.
"If I can make it, you can make it! Stay in school!" Then he tells them " Love yourself."
Nuñez calls it giving something back. But others see him as a classic role model of what can be achieved despite a shaky start. When he isn't officiating or working with the league in some other capacity, he's speaking to kids from coast to coast, organizing summer sports camps, youth programs or directing his National Hispanic Basketball tournament. Giving something back is a full time job for Tommy Nuñez, but he hasn't done it without recognition. He is included in volume one of the book "Hispanic Heroes of the U.S.A." and has been named to the Laredo Latin American Sports Hall of Fame. He shrugs and says simply:
"I'm just somebody from their background that they can listen to and believe in" he says. "I was a nobody all of my life, it's nice to be a somebody."
Growing Up
Nuñez didn't start out as anyone's hero. Born in Southern California to Mexican parents, they moved to Phoenix when he was seven. His parents were divorced when he was eleven. His own life seemed to fall apart after that. He stole, he fought and he stayed out all night. In constant trouble with the authorities, he was directed to join the Phoenix Boys Club…and he was kicked out. At age 17, he was expelled from St. Mary's High School. At about the same time, he side-swiped a car and fled from the scene. The hit and run was fifth outstanding traffic warrant. A probation officer put it to Nuñez bluntly: either he joins the military service or risk going to jail. Newly married, he decided to join the Marine Corp. "It was the first thing I ever did right," he says. Nuñez stayed in for three years. He figures it saved his life by making a man out him. He even got his high school diploma as a Marine in Okinawa, Japan. The kid that had lived life on the edge, full of hate and fury, came out of the Marines as an adult looking for a future.
Start of Officiating
He began inauspiciously enough, officiating basketball games in a predominantly Black and Hispanic league for $3.50 an hour.
"Nobody would come to those games," he would recall years later. "But it was in my neighborhood and I needed the money."
The gym, formally Harmon Park Gym is now named after Tommy and is known as the Tommy Nuñez Gymnasium. He was good enough at refereeing that he moved on to high school and junior college games. His big break came while officiating an exhibition game with the Phoenix Suns. Darrell Garretson, a National Basketball Association official, saw him work and suggested he try out to become an NBA referee.
At first Nuñez said no. He was working as a telephone repairman in addition to officiating part-time and, as he puts it, "I didn't want to leave my comfort zone." Garretson persisted and, finally saying yes, Nuñez became one of 16 out of 1,000 applicants in 1972 to wear the NBA stripes and the first Hispanic to referee in any major sport. As far he knows, he's still the only one. As he puts it in talks to young people:
"I'm proud to be the only 'Ain't' in the NBA. I ain't white and I ain't black."
Nuñez bore with newly-acquired aplomb, occasional ethnic slurs during games. Basketball fans take winning and losing seriously. "Sure you hear a lot of things from the stands," he says. "I get ethnic shots. But I've heard some funny lines too." Two he can remember are, "If you want to call something, why don't you call a cab and get the hell out of here!" and "If you go on 'What's My Line', they'll never guess what you do for a living." He ignores the slurs.
Contributions
Giving back has taken on many forms. Nuñez recently donated a $2,000 scoreboard to a settlement near the Phoenix neighborhood where he grew up. He gave a summer basketball clinic at the Fort McDowell Indian Reservation. He speaks and gives clinics for the children of migrant workers at their school outside of Sacramento. And, he observes with ill-concealed pleasure, 25 year's after expelled from St. Mary's High School:
"St. Mary's keeps telling me that I'm the biggest celebrity they ever kicked out."
He returned to help organize the Tommy Nuñez National Hispanic Basketball Classic, an annual tournament for young Latinos. Referees of all levels travel to Arizona to volunteer their time for the NHBC tournament. Each year, the tournament raises an estimated $25,000 for youth activities and scholarships.
OFF SEASON GIVING BACK
During his off-seasons, Nuñez worked for the Arizona Department of Economic Security's Job Training Department and the U.S. Department of Labor Job Corps, working with what he calls "the underdogs of the world." In addition, he directed a summer work program developed by Chicanos Por La Causa designed to introduce young adults to basic fundamentals of employment and to instill in them a sense of pride and responsibility. From 100-200 youths ages 14-21 participated in Chicano culture classes, educational field trips and beautification programs in their own barrios that involve hands-on work.
As if that weren't enough to do in any off-season, Nuñez was named a motivational speaker on behalf of at-risk kids by the Arizona State Superintendent of Schools. This involves a major part of Nuñez' giving-back, an opportunity to tell young people what he went through as a kid on the brink of an abyss. Partly because of this, he was given the 1992 Roberto Clemente Award for excellence by the National Council of La Raza.
But perhaps his greatest reward is the impact his words, and his life, have on the kids he addresses. A letter from the superintendent of a South San Antonio, Texas, school district says it all:
"The experiences you related from your childhood touched the hearts and minds of each student. With dropouts occurring at an alarming rate, positive role models such as yourself are as vital to education as the three R's. You are an inspiration to us all."
Awards and Recognition