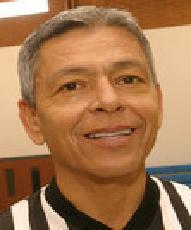 December 4, 1954 – November 5, 2007
Andy worked every year that he was healthy enough to, of the Tommy
Nuñez National Hispanic Basketball Classic. He passed away shortly after our
27th event after a long illness that Andy had fought since 1993 when he
was given last rites. It is now our 30th year of this event and hard to believe
that Andy worked 27 of those tournaments. Andy was a lot like our
tournament in that he accomplished so much when many people
doubted that he could make it as a player or an official, especially after
he became ill.
He accomplished very much as both. Besides working our tournament for 27
years, he officiated in the PAC 10, Mountain West, Western Athletic
Conference, West Coast Conference and Big Sky. He worked conference
tournaments as well as the NCAA tournament during his career. When visiting
with Andy, most of his favorite stories were about National Hispanic Basketball
Classic tournament even though he had worked on a much bigger stage.
Being a player in high school, Andy always wished there were tournaments like
this when he was playing. In looking through old programs, it is hard to believe
that we have grown to 76 teams, and could take more if we wanted to, from a
small tournament that started 30 years ago with 12 teams and one gymnasium. Andy was
one of about 16 referees that covered all the games back then. It is hard for me to believe,
no doubt, what we have become.
Andy Rios was a elementary school principal. He always had a smile on his face, a quip
that made you laugh and he carried the heart of a champion inside of him. His students
looked up to him and thought of him as a hero. Words cannot do justice to Andy Rios.
It is because of volunteers and role models like Andy, that we have grown into such a
successful and popular event. I can't thank you all enough for all you do.
Tommy Nuñez
NHBC Founder/Director